In 2016, members of Objective Clay shot a video at Watershed Center for the Ceramic Arts. Click on the button below to view Jen's thoughts on making a cup.
Ceramic Arts Daily has produced three "how-to" videos that feature Jen. Listed below are a brief overview of each video and links to learn more/view clips.
Also..stay tuned...Jen has an exciting new video project in the works!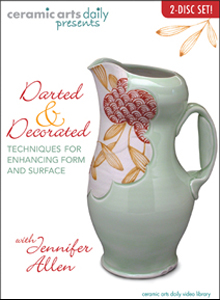 Darted and Decorated: Techniques for Enhancing Form and Surface
This DVD showcases a step-by-step approach to creating a handful of pottery forms. It starts with construction techniques both on and off the wheel and ends with glaze decorating techniques.
Fundamentals of Wheel Throwing
This DVD will help get you started on the potter's wheel. It offers basic instruction and helpful tips to make mastering the wheel less of a mystery.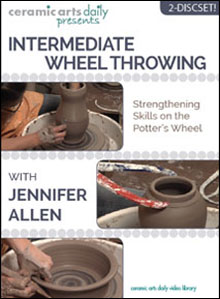 Intermediate Wheel Throwing
This video will help bolster your wheel skills. It covers various lid making techniques, throwing off the hump, creating oval baker forms, throwing large pitchers using either one piece or two stacked pieces, etc.