Jen Allen received a BFA (2002) from the University of Alaska, Anchorage, and a MFA (2006) from Indiana University, Bloomington. From 1998-2002, she worked as a production assistant to Kris Bliss at Bliss Pottery in Anchorage, AK. In March 2008, the National Council for the Education of Ceramic Arts (NCECA) recognized Jennifer as an "Emerging Artist". Among other awards, she was the recipient of the 2006-2007 Taunt Fellowship at the Archie Bray Foundation in Helena, MT. In addition to keeping a home studio, Jennifer currently teaches ceramic classes at West Virginia University. She lives in Morgantown, WV with her husband Shoji Satake, their two kids, Annelise and Finn and their two dogs, Billie and Ella.
Jen is excited to be a part of a local studio tour in her hometown. Her tour stop, at her home studio, will have 3-4 guest artists. To find out more, please visit motownstudiotour.com
The following are folks that continue to push me to reach farther and learn more. None of course have been more supportive than my husband, Shoji Satake. View his website here.
(1950-2016)
Kris, mentor and dear friend, was a wholesale potter from Anchorage, Alaska. In 1998, I walked into Kris's studio hoping to land a job as a studio assistant. Little did I know, that visit was the beginning of a lasting friendship. I worked for Kris for four years and two summers. In that time, Kris taught me the ins and outs of maintaining a career as a production potter. I will always cherish our time together. Click here to view the interview I did with Kris in 2013.
My husband and I proudly sponsor an annual National K-12 Ceramic Exhibition Award in Kris's name. The first recipient of the award, Lillie S (teacher Ramayana Baba) earned recognition for her incredible Trompe L'oeil sculpture titled Sushi Dinner.
Turns out being an artist runs in the family. Pictured with the camera is my grandfather, W. Bryan Allen who was a WWII combat photographer for the US Army and later a wildlife photographer. A couple of years ago I published an article on the Objective Clay website with additional photographs taken by my grandfather. Click here to view publication.
My aunt, Elizabeth Allen is a painter who lives and works in Vermont. The landscape painting shown here is titled "Stowe Village in Autumn" and the still life is titled "Signs of Spring" and features one of my pottery vases. Growing up I was always impressed by her talent. To view more of her work, please visit her website: elizabethallenfineart.com
My sister, Katherine Allen is an exceptional artist who divides her time between client-based producing and independent film-making. She lives and works in New York City. View her producing website here. Her husband, Daniel Farmer, is equally as talented. View a trailer for his award winning short here. Katherine and Daniel joined forces to direct and produce the Objective Clay Cup video, link here.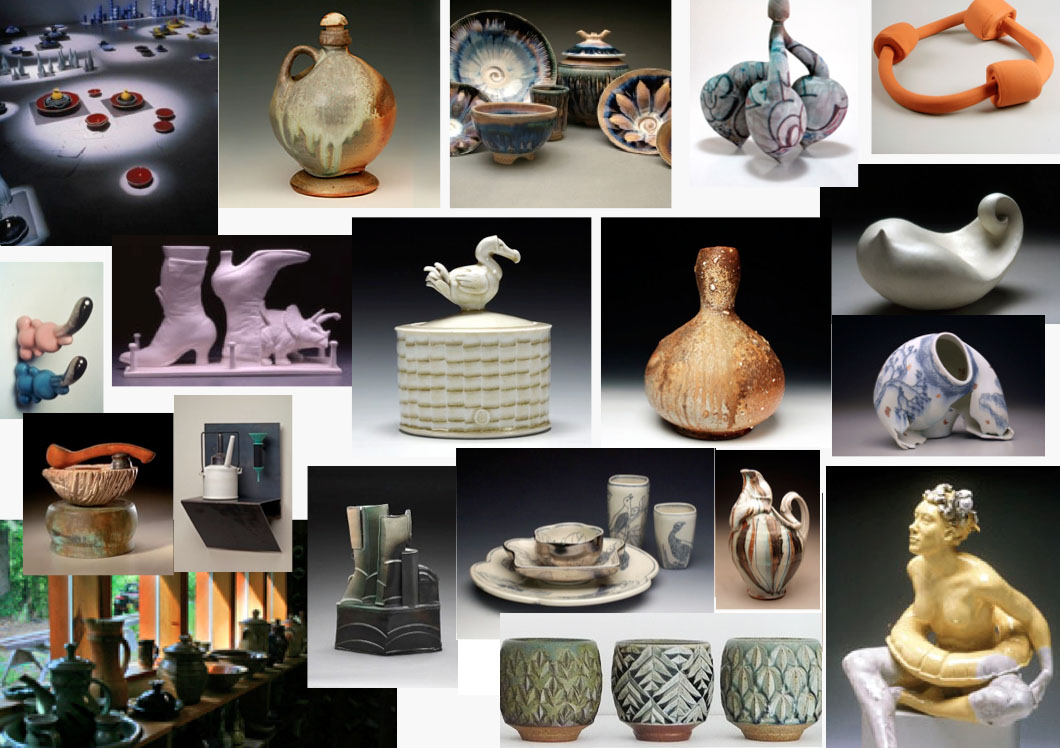 Here is a glimpse of the many ceramic teachers and mentors I've had over the years. Each one has left a lasting impression on me. I am thankful to have had the opportunity to work with each of them.
Pictured: Bobby Silverman, Tom Rohr, Kris Bliss, Malcolm Mobutu Smith, Pamela Pemberton, Lisa Conway, Steve Lee, Christyl Boger, Robert Banker, Josh DeWeese, Julia Galloway, Brad Schweiger, Peter Brondz, John Goodheart, Rick Hirsch, Sinisa Kukec, Tim Mather, Steve Godfrey and Martin Tagseth.
As a founding member of Objective Clay, I am constantly humbled by the group we have become. We were mostly strangers when the group first formed and now have evolved into a supportive network of friends that stretch across the United States. Members pictured: gwendolyn yoppolo, Shawn Spangler, Bryan Hopkins, Jen Allen, Deb Schwartzkopf, Kip O'Krongly, Lindsay Oesterritter, Sunshine Cobb, Doug Pelzman and Emily Schroeder Willis. Not pictured: Brian R. Jones and A. Blair Clemo.